It's been a year since I last published anything. It's been over 18-months since I started taking photos for this project. (If you're new here, read Who takes these photos? to find out how it started.)
Somehow it seems like not much has changed in Croydon, but yet looking through the photos I've taken recently, I realise that more has changed than I thought.
Photos that I'd taken a while ago have now become nostalgic. They were just passing moments, but now I have a new fondness for them.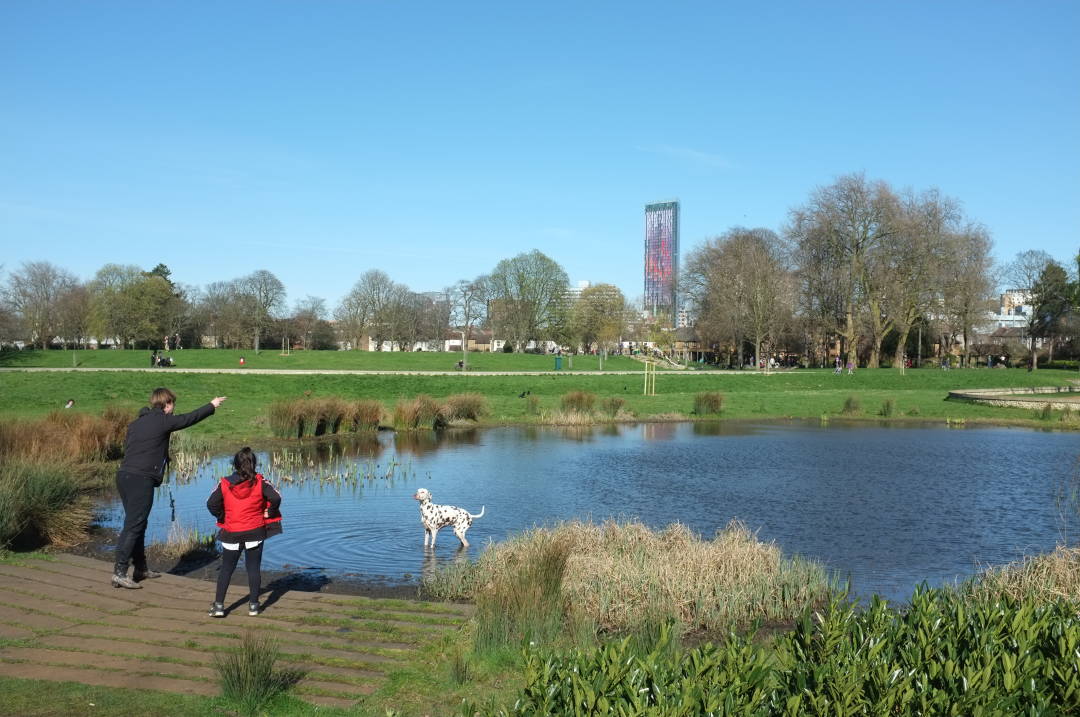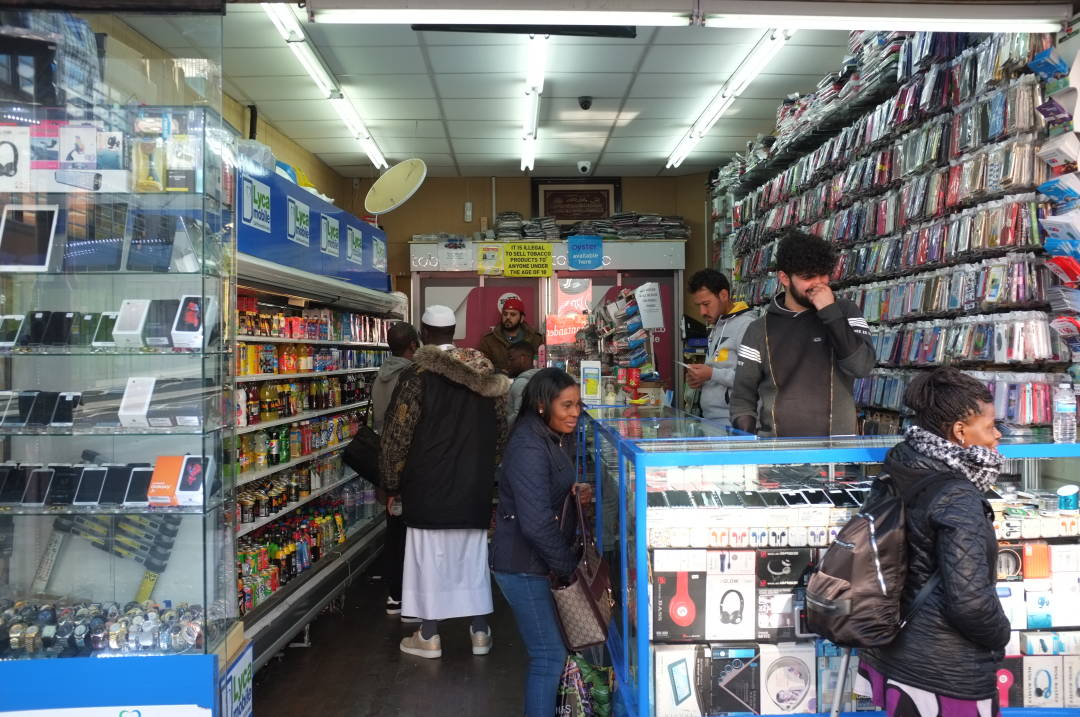 Having first stepped out into the town centre in January 2017 with my camera, it's now possible to recognise some quite big changes.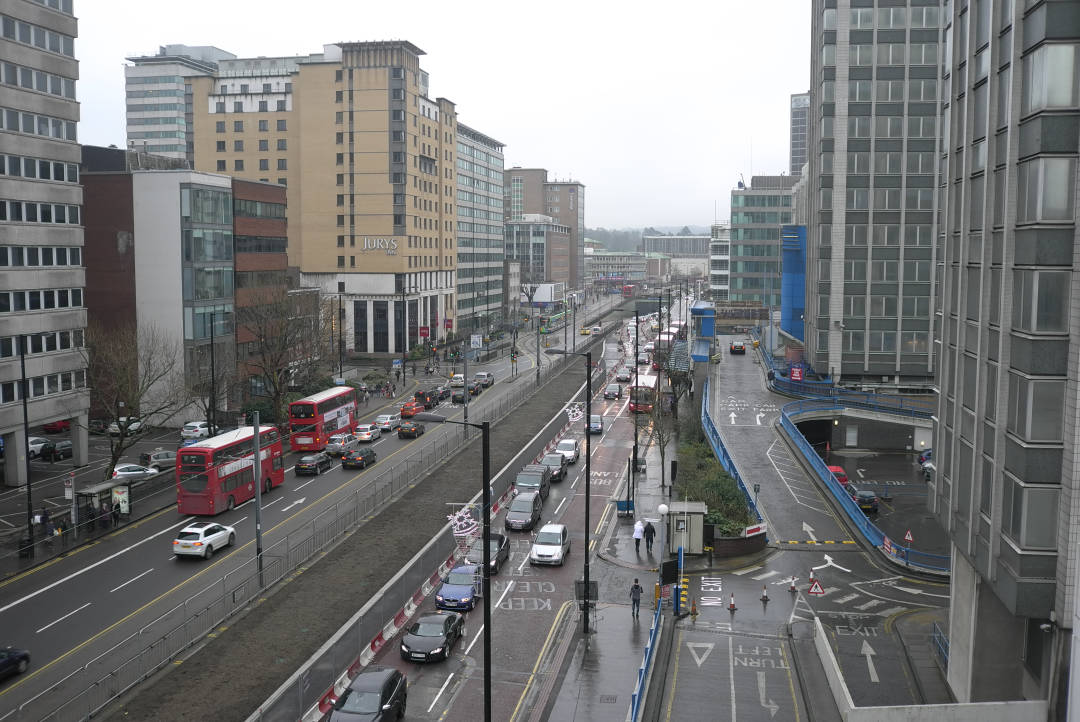 The photo above was one of the first photos I'd taken when I started the project. The old road layout wasn't functional anymore and the road was quite ugly. Pedestrian underpasses had fallen into a terrible state, and it was actually quite difficult to get from one side of the road to the other.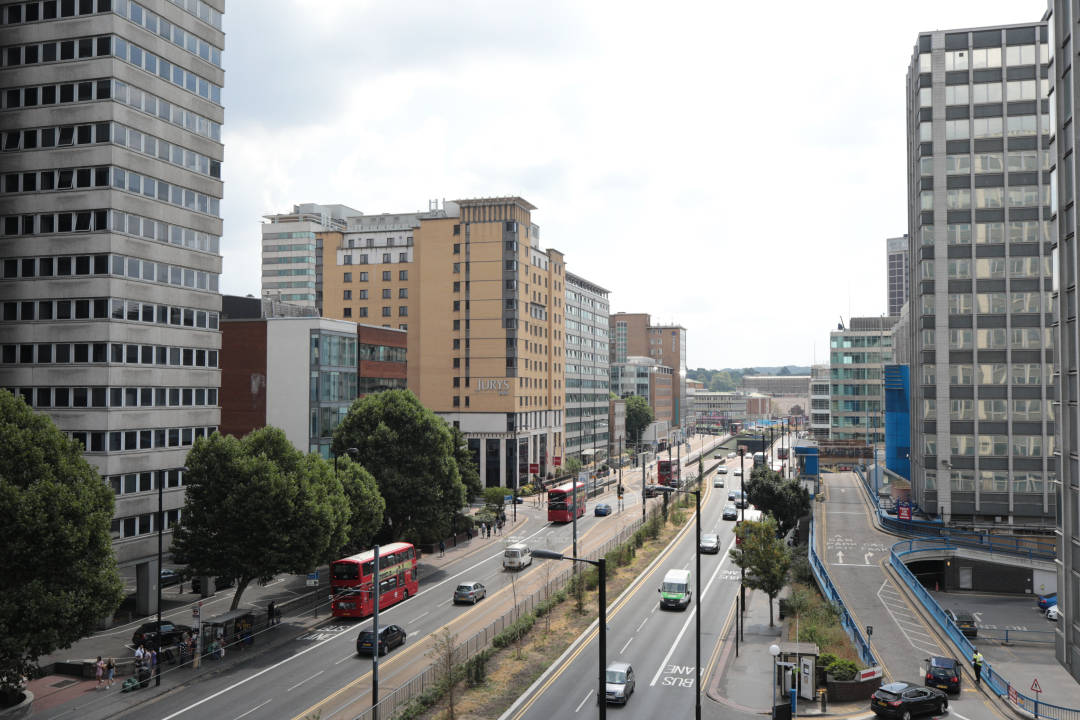 The new road layout now gives two full lanes to traffic driving north (the road with traffic towards you) plus a bus lane. It also has lots of room for trees and plants down the middle.
This view will will look very different in a few years' time, as the entire of the Whitgift centre (the buildings on the right in the photo above) is about to be knocked down.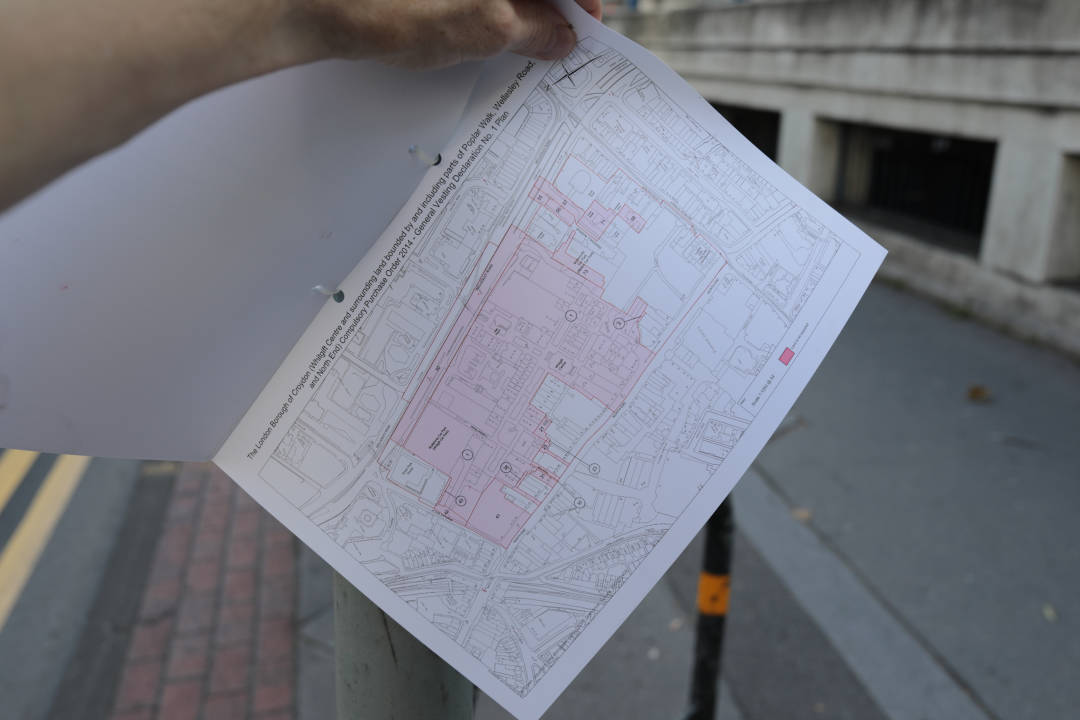 Westfield has been eyeing up Croydon for a while. Shoppers are switching to premium inner-city shopping centres accesible by public transport, rather than out-of-town ones by car. With the extra transport links being added to East Croydon (Thameslink) and West Croydon (London Overground), plus a tram extension, Croydon should be able to cope with large numbers of shoppers without the need for cars.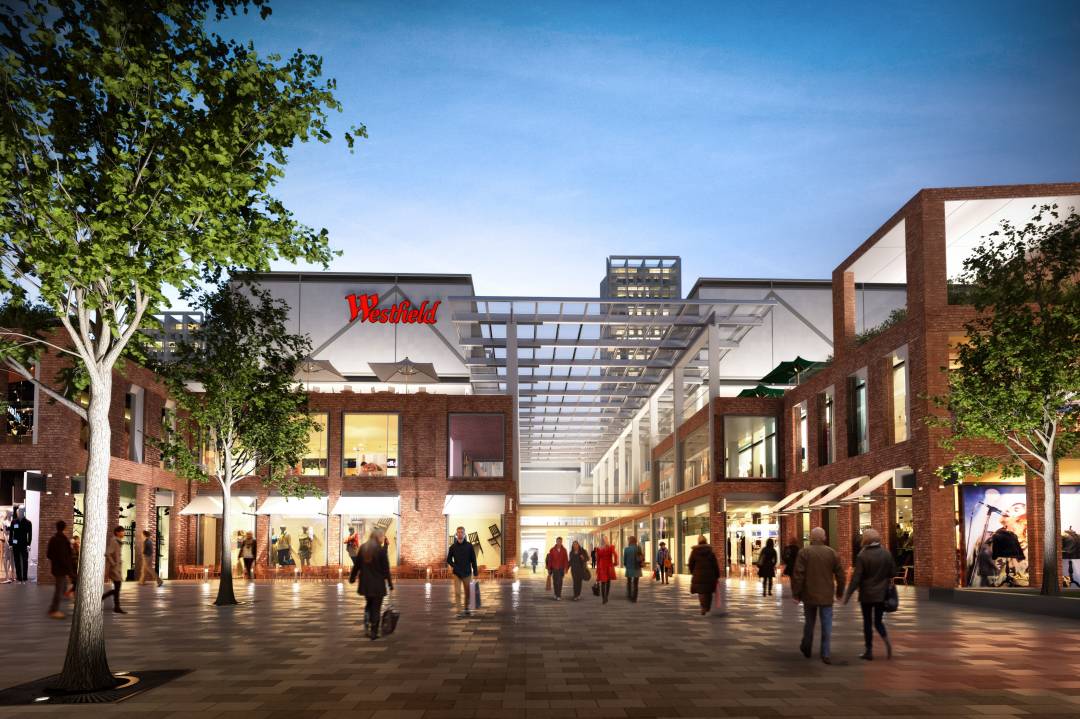 At the same time, a lot of flats will be built in the town centre. The idea is, as proven in many other towns and cities around the world, if people live somewhere, crime is redcued and more people care about the area. Currently nobody lives on North End in Croydon, so after 8pm when the shops have all shut, it's not an especially nice or safe place to walk.
By building 750 homes, this should give a real boost to the town centre and make it somewhere people want to live, work, shop, eat, and play.
The site is huge and will take years. It's taken years in planning already, but having been given the go-ahead from the Mayor of London and the compulsory purchase order made, shops will have to start moving out to make way for the bulldozers soon.
But wait, there's more
On the other side of the road to the future Westfield, a 68-storey building is being planned. One Lansdowne will be mostly flats, with some offices and restaurants. Possibly even a hotel too.
To give you an idea of how tall that is, if it were built tomorrow, the only building that would be taller is The Shard. There's a few other skyscrapers going up in the City at the moment, so by the time One Lansdowne tops out it will only be in the top 5 of the UK.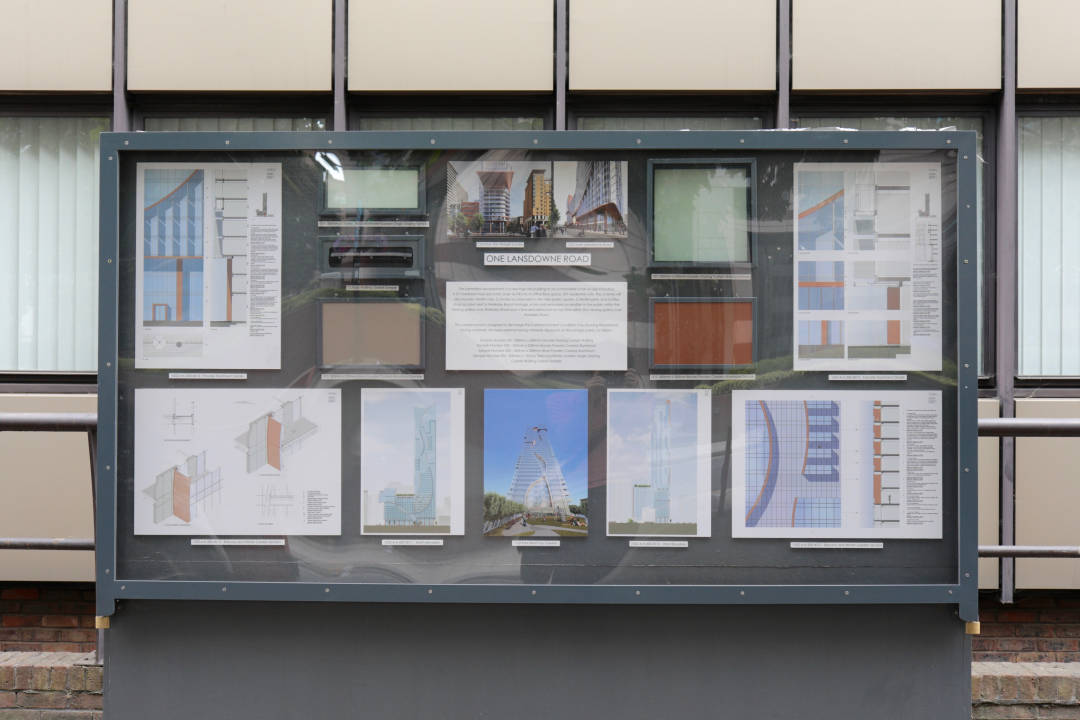 Currently the site is a 5-storey mixed use building. Part of it was being used for a church, but now is just a small hotel and gym.
My plan with the photo above is that so long as they don't change the line markings on the road too much, I'll be able to take the same photo in a few years' time. From the plans, I think this will be where a public square and one of the towers will be.
I took the photo above in July. But I didn't realise that just a few months later, it would have been given a new, albeit short, lease of life.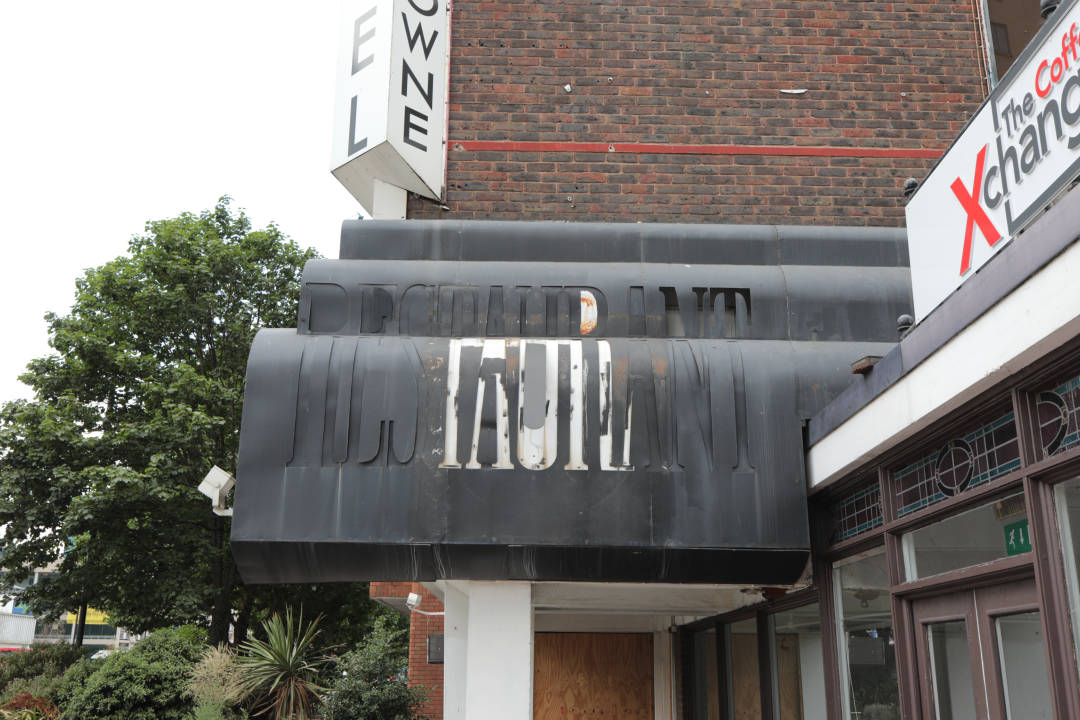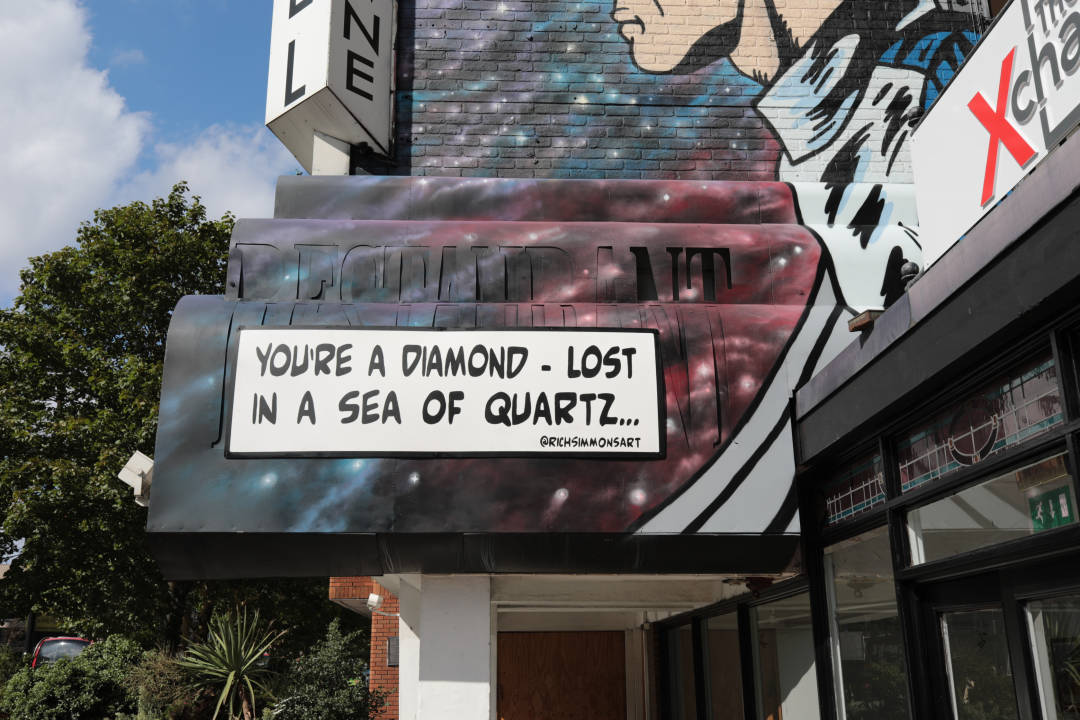 I'm not sure how long it can stay open for, but it's nice to see it in use while it awaits its demolition fate.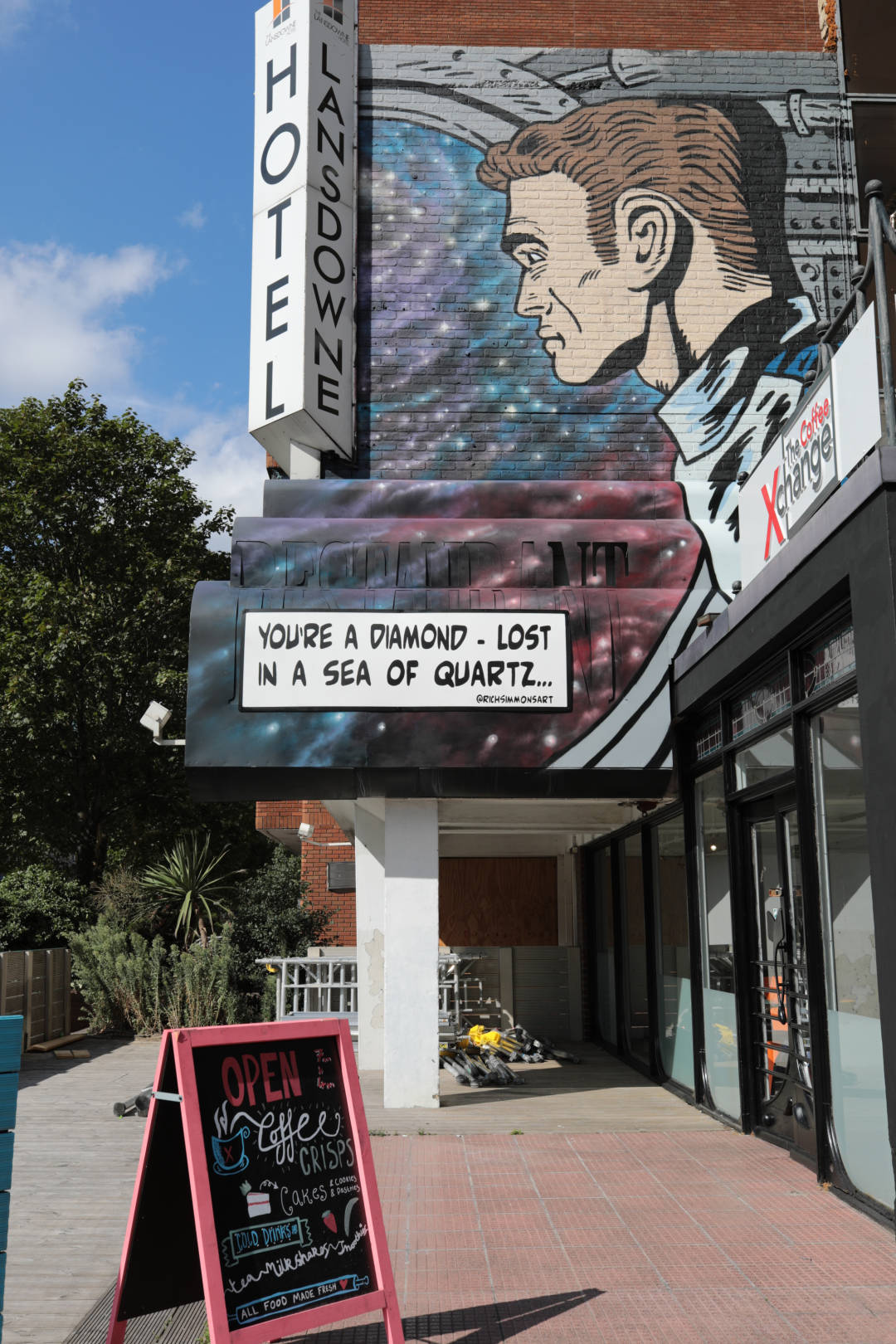 There's a lot of art in Croydon currently, this almost blends in. The theory goes that graffiti is inevitable, but artists have a sort of code to not destroy other's work. If you give artists a space to work with, you can at least have something more appealing and interesting.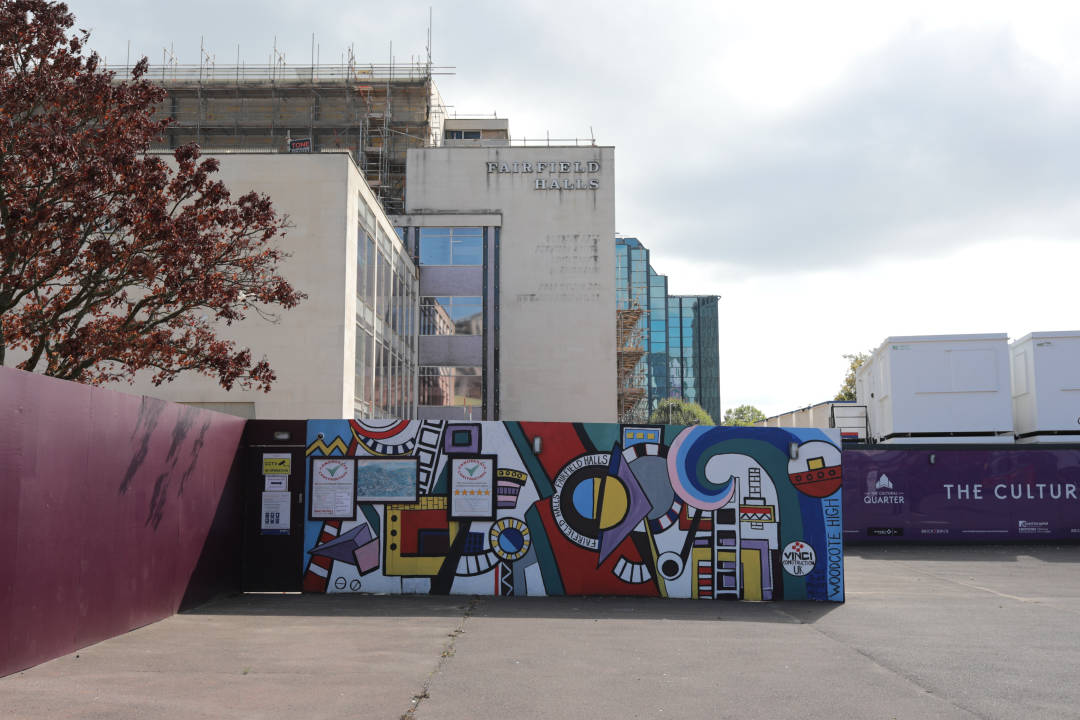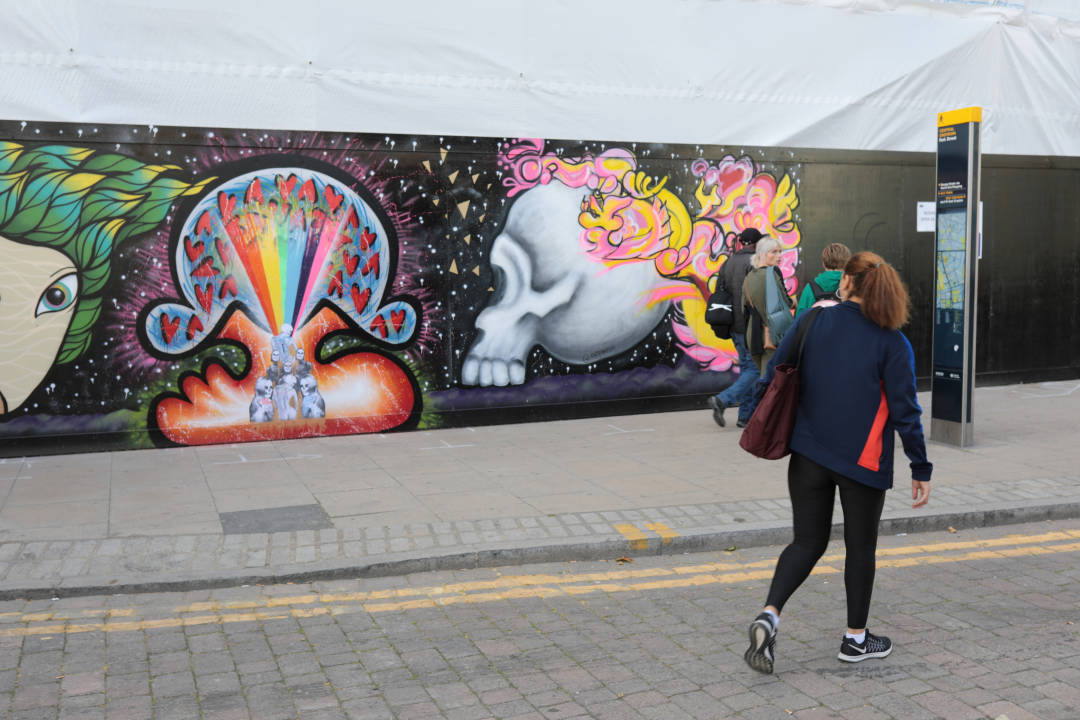 The drawing at the bottom of the mushroom/cloud thing in the middle was probably questionable if it should be in public view, as it contained graphic references and words. When I went back a month later, it had been restored.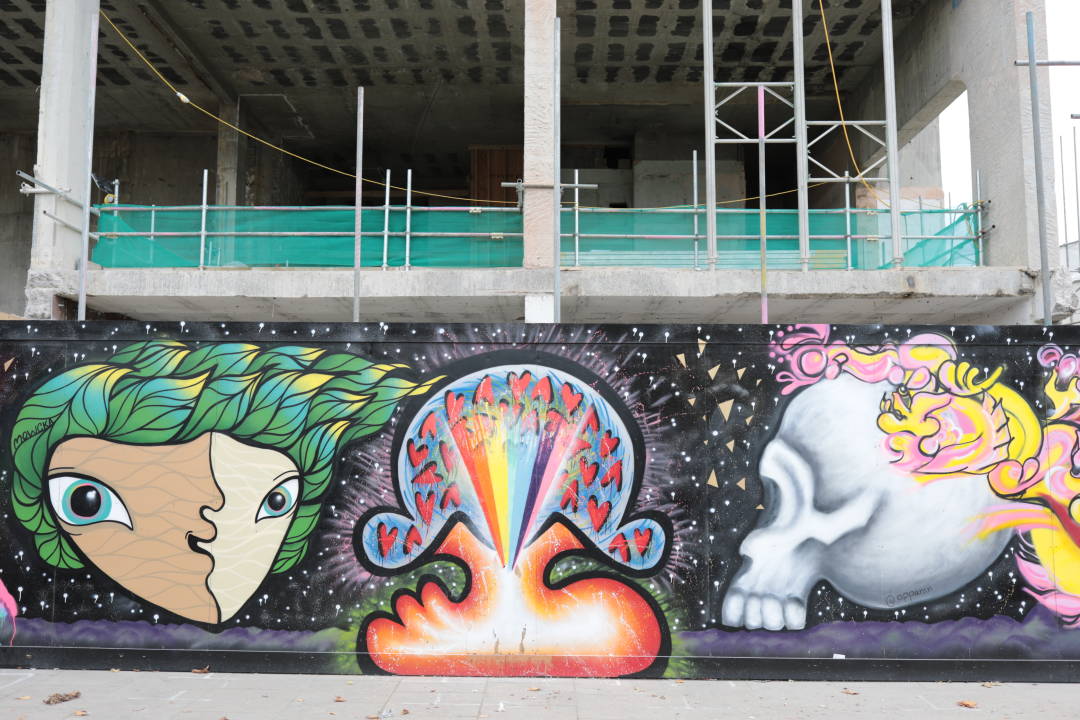 A disused building opposite the Fairfield Halls has recently had new boards put up and painted. A few artists had starting working on them in the unusually warm September days we were having.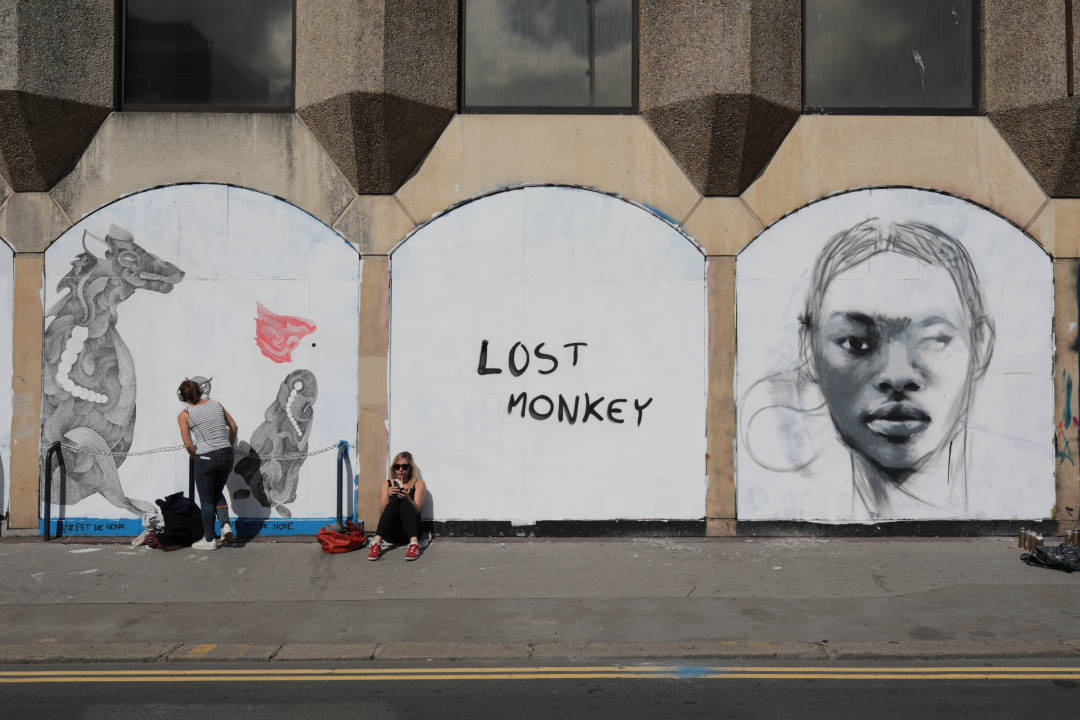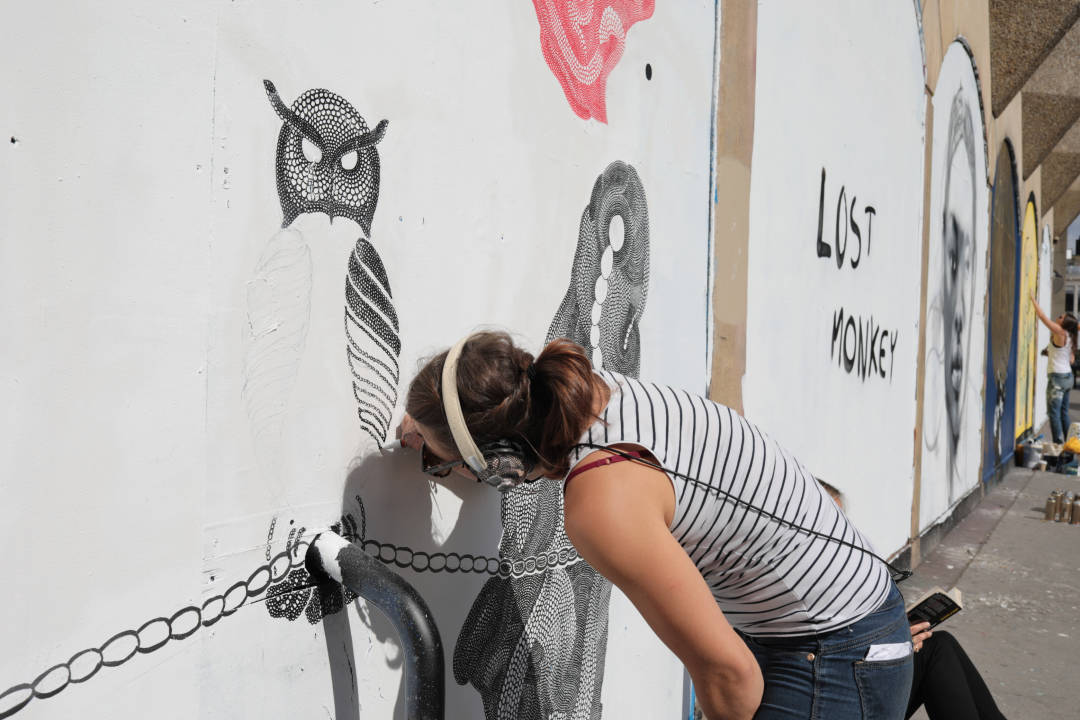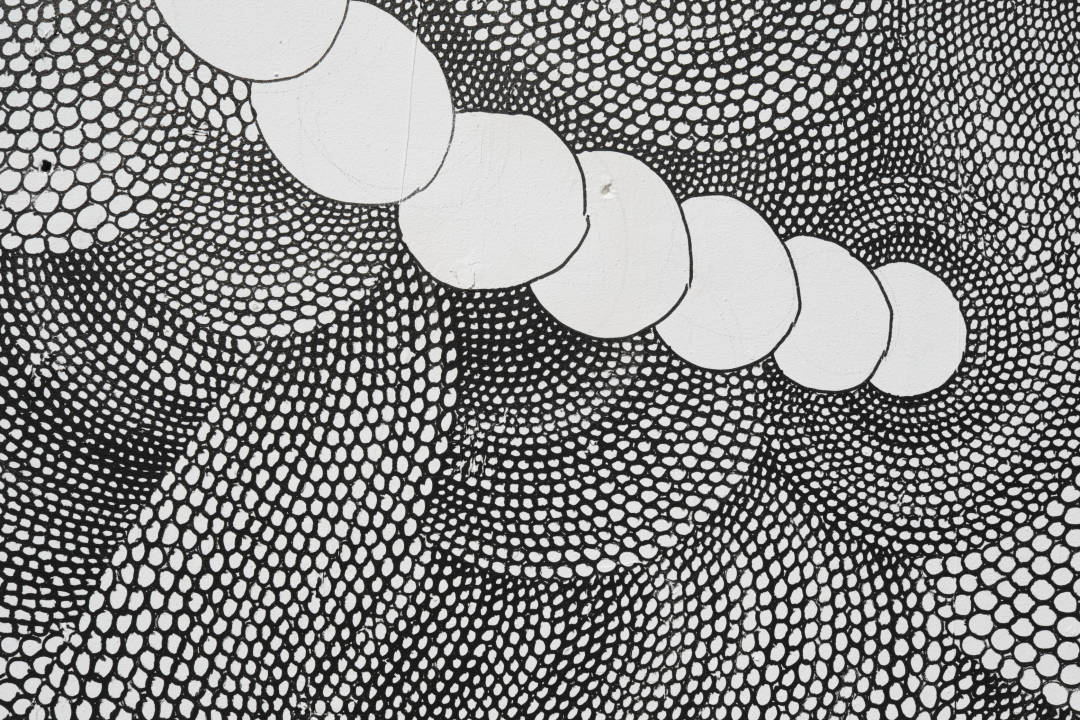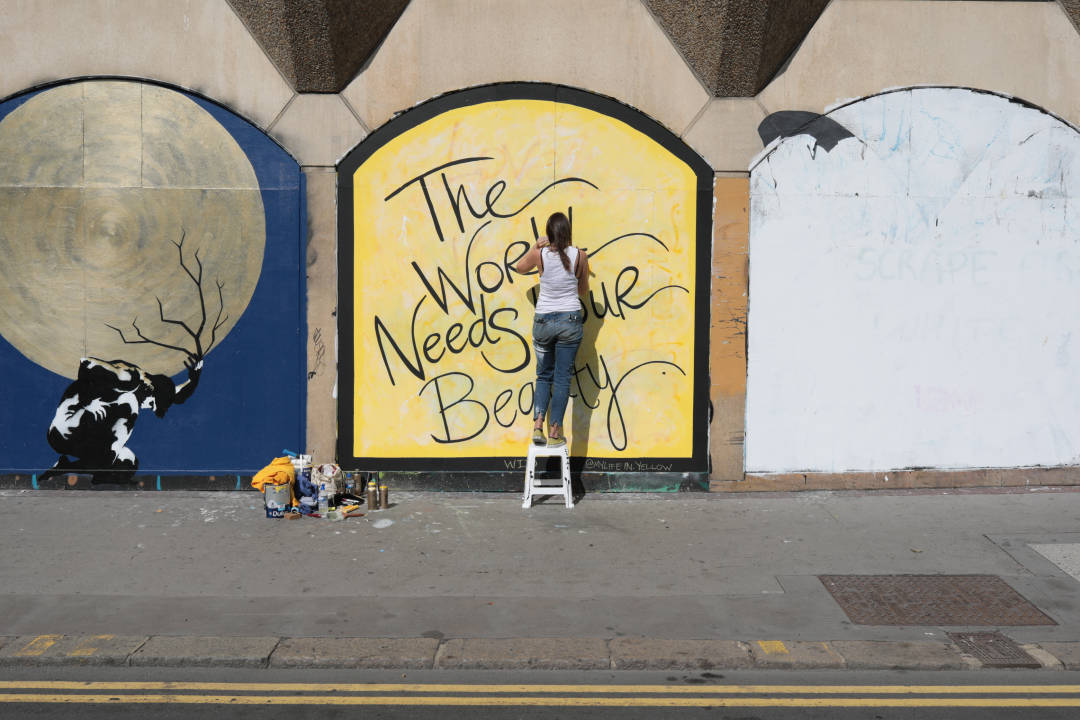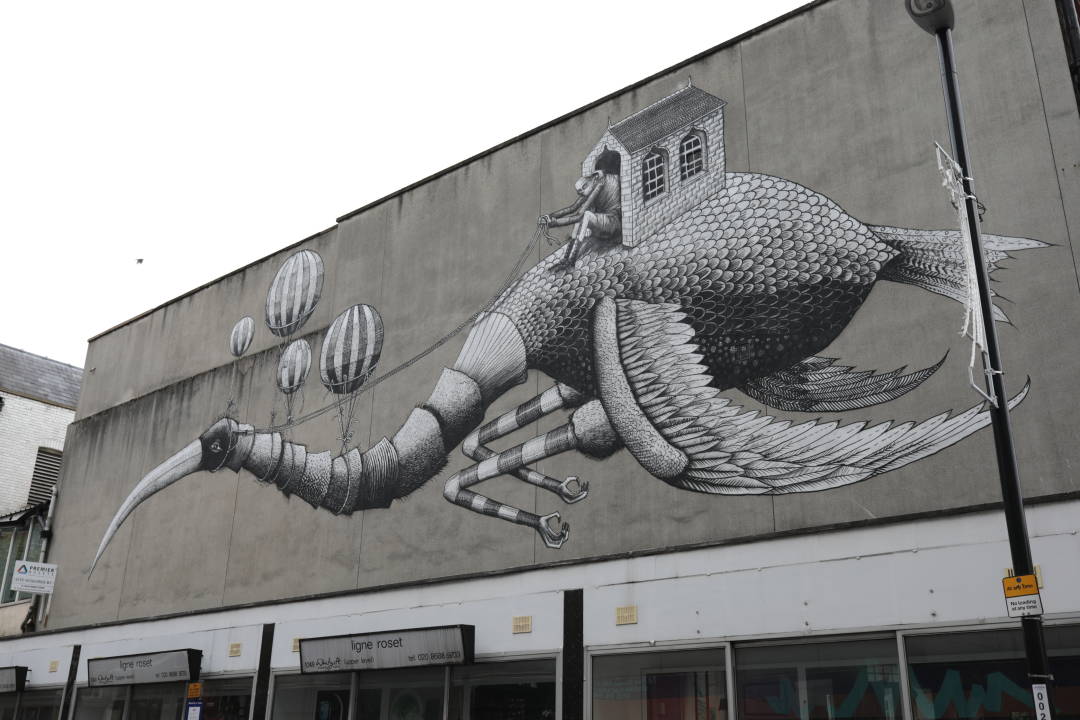 Some of the artwork is extraordinary. Wondering around Croydon I sometimes feel like I need to photograph as much of it as possible because the buildings that are being used will be knocked down within months. Amazing to spend so long on some artwork, knowing that it is only temporary.
Talking of the arts
The Fairfield Halls was Croydon's main entertainment space. Room for concerts, shows, …and panto. It closed to be refurbished and brought up to modern standards. Simple things such as the loading bay could only accommodate one heavy goods vehicle at a time. The new one will take more, plus room for tour coaches. It should be opening next year. I had a sneak peak in it a year ago and the exterior is now covered up while final works get under way.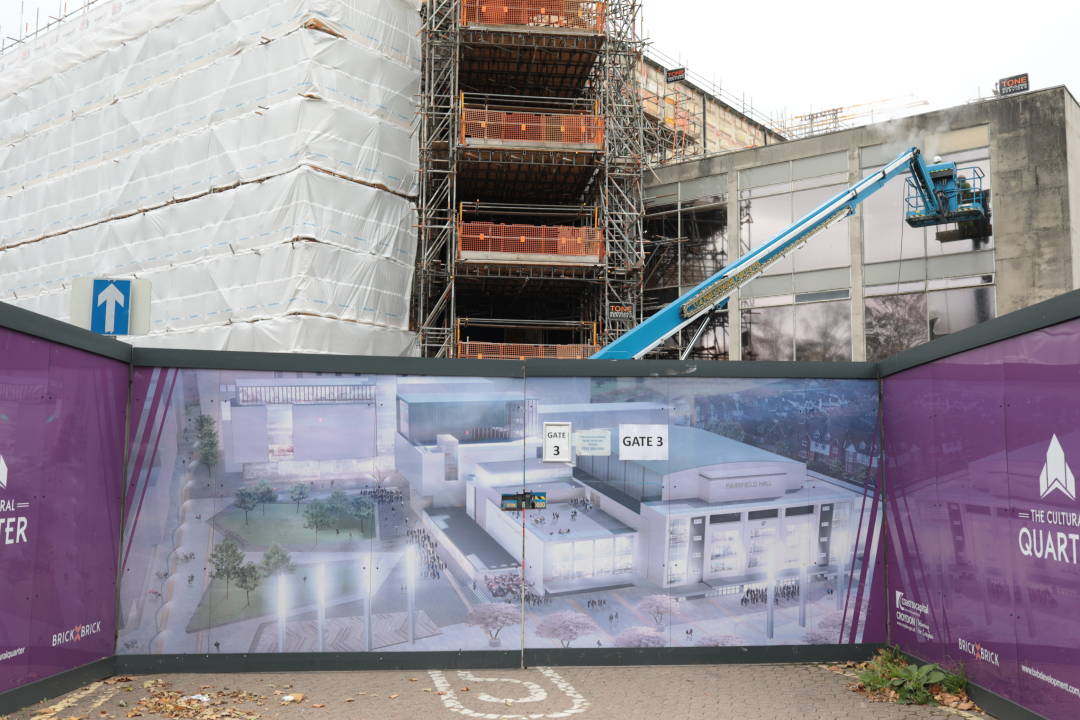 I'm really excited to see how this turns out, as that area has always been a bit of a weird no-where area in Croydon. You only go there when a concert is on, and then otherwise it's empty. There's new flats going up over the road, and the new Fairfield Halls will also include temporary artist spaces plus shops for start-ups, so hopefully it can become its own little community for the arts.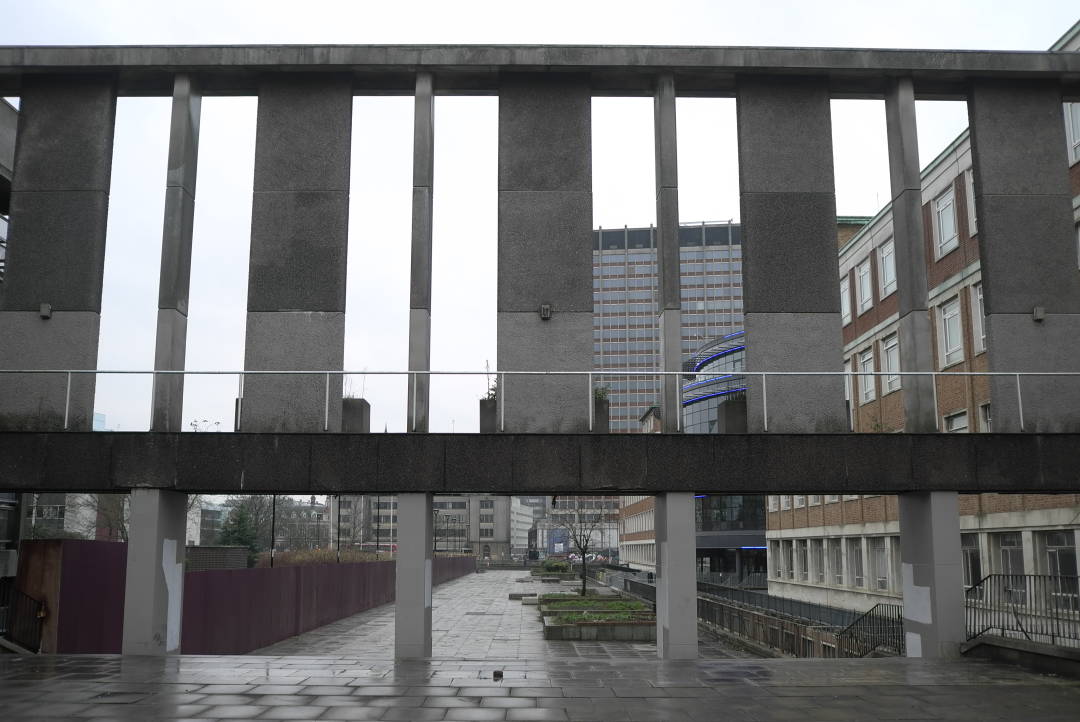 I took the photo above a year ago of a large concrete structure just by the car park. Both the structure and car park have now gone.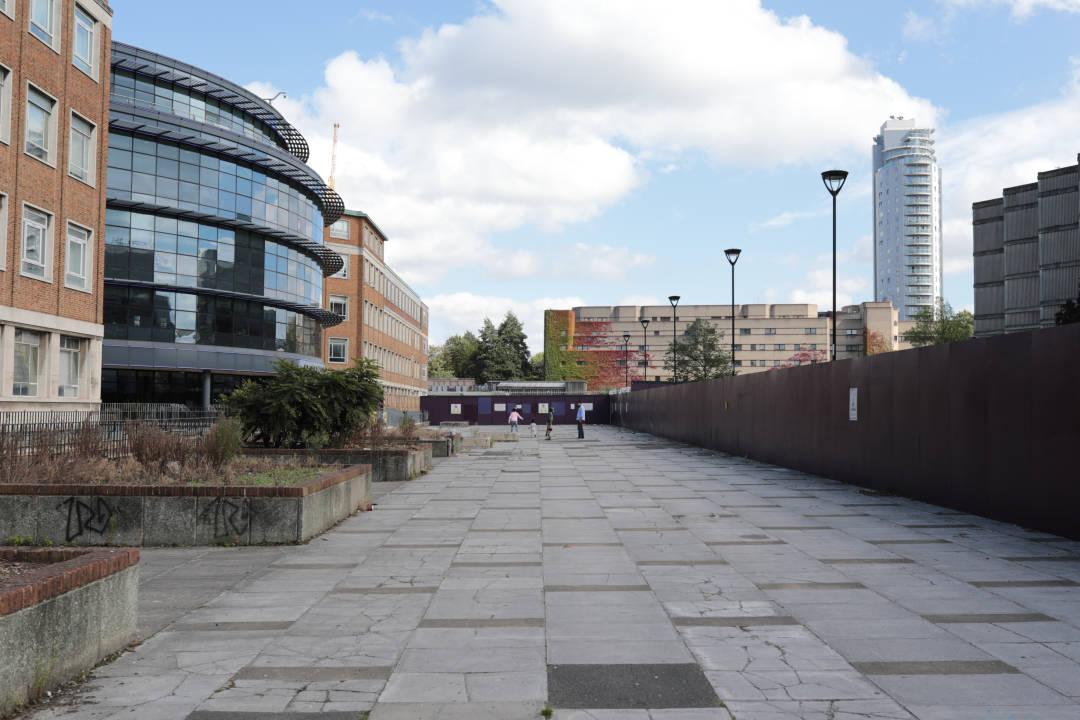 Above, this is looking backwards where that structure was, and behind it where the car park was.
Annoyingly, I didn't take a photo of that view 'before'. It's becoming quite hard what to take photos of in case something gets knocked down before I get there.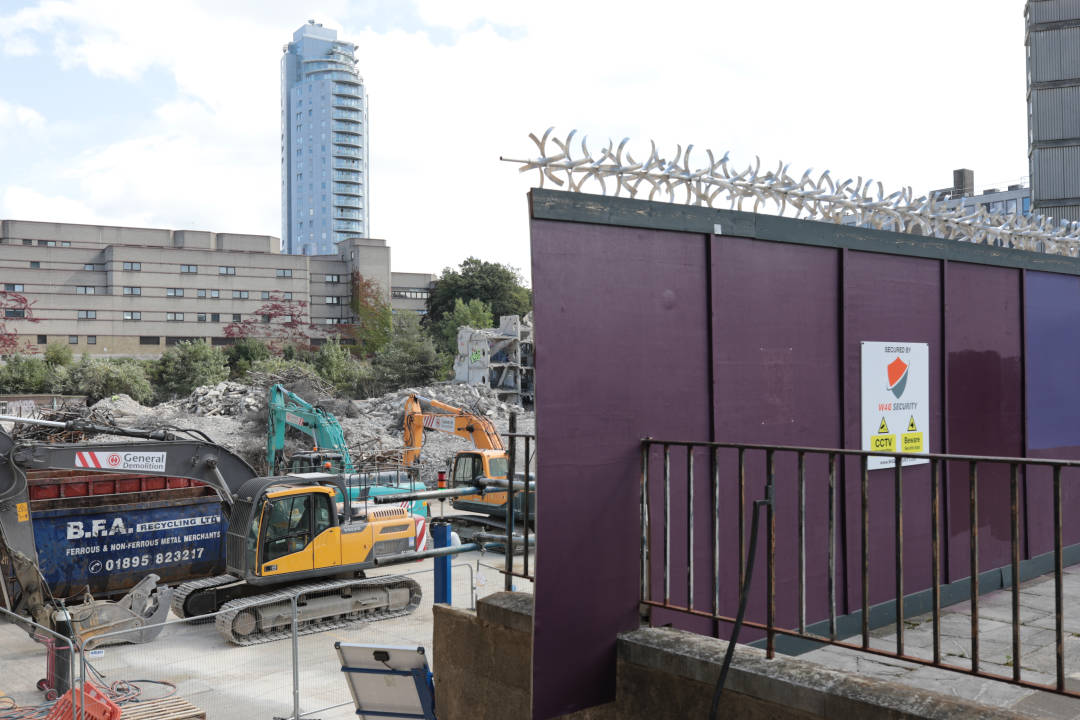 Around the corner closer towards East Croydon station, a site that's remained untouched for years has suddenly had a spree of activity. A 30-second walk into Easy Croydon station is perfect for those who like staying in bed as long as possible, maybe?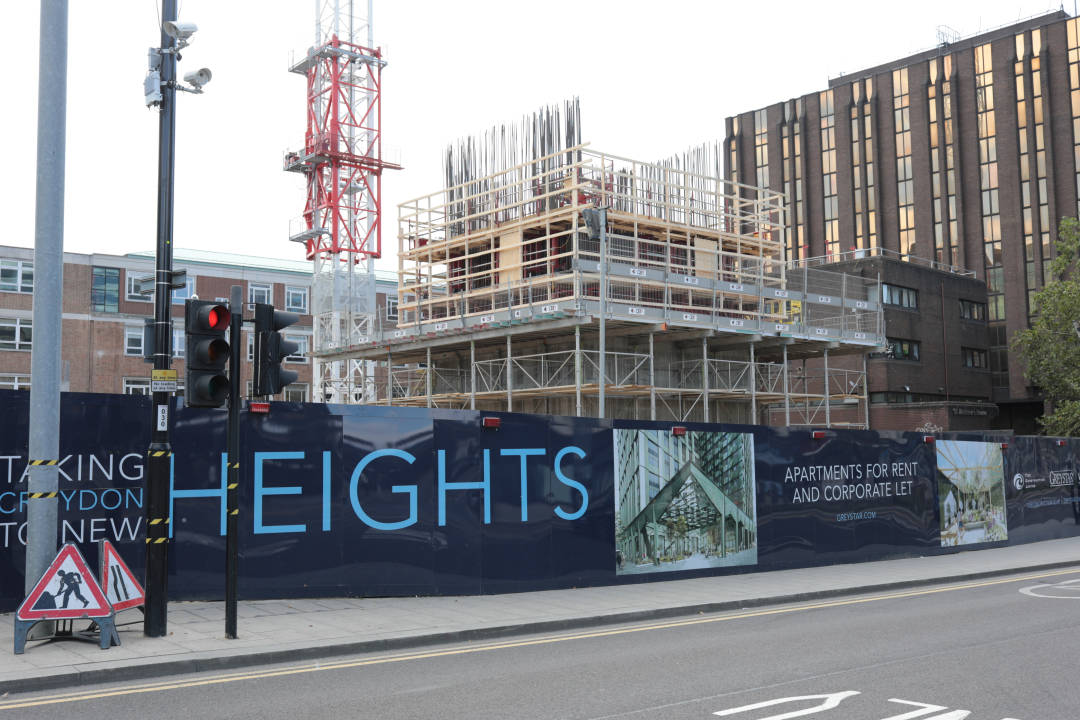 This new building is using a modular system of construction, which is quicker to put up. It's been used a lot in other countries in Europe and in Japan, but it's not as common in the UK.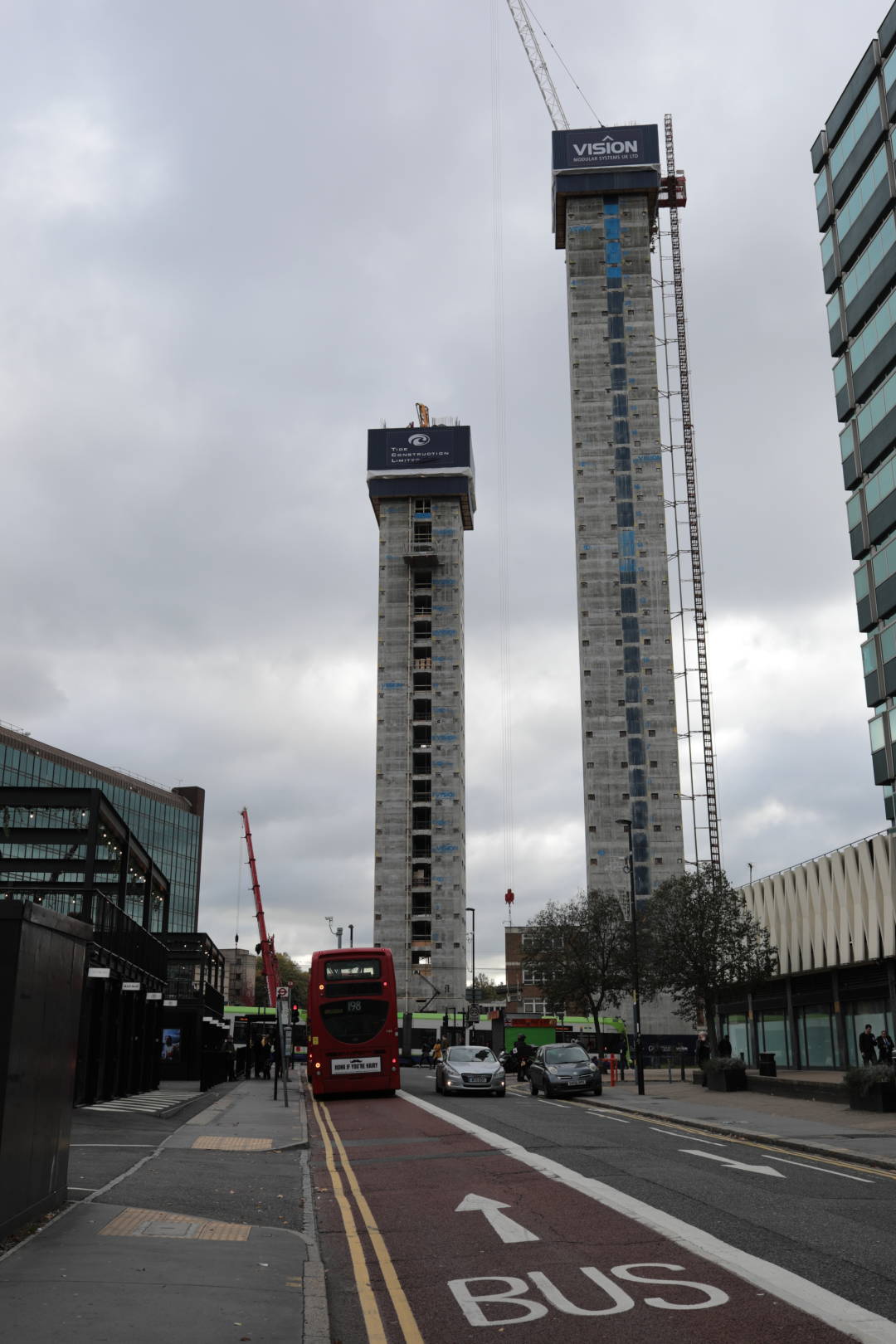 Just a month later and it's almost at its full height, at least for the core anyway.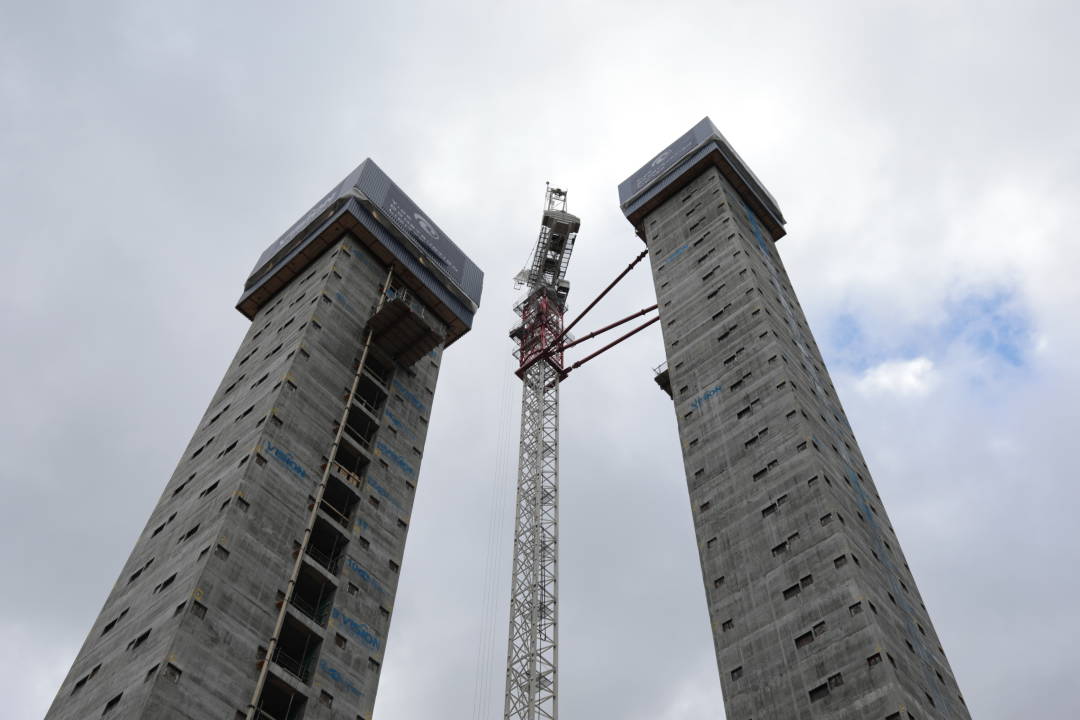 It's hard to describe how tall these are, as they're just cores it's not possible to get a sense of how much they'll change the area around East Croydon.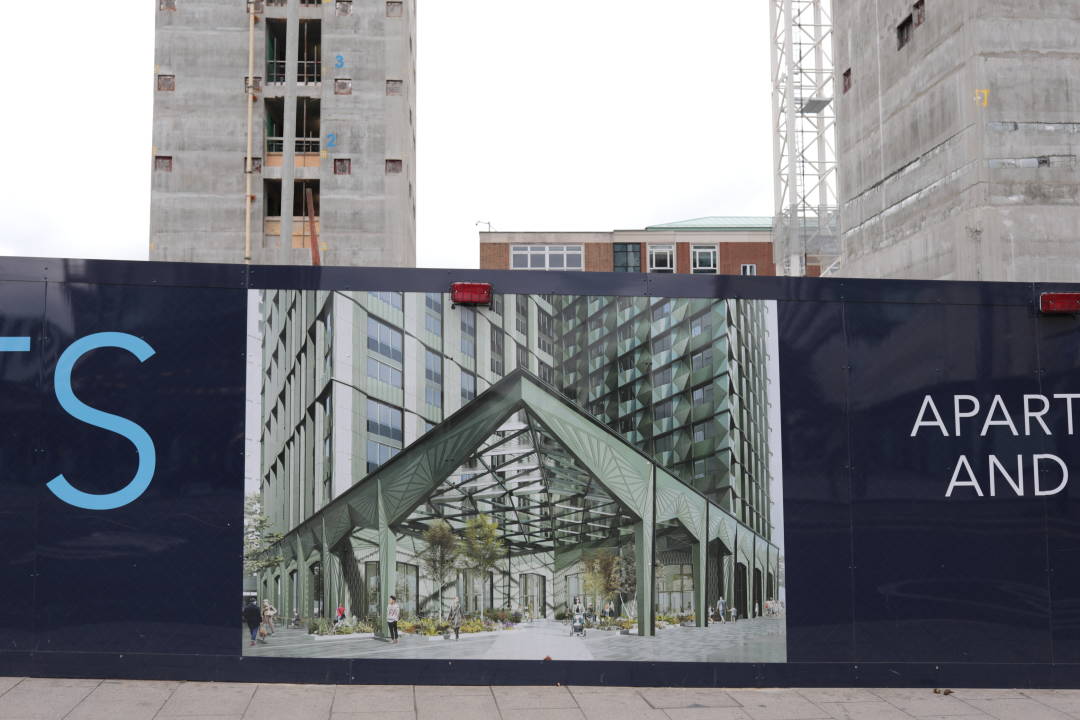 As I was taking these photos, a person who later said his name was Bob, wanted to know if I liked the building. I said I did, as the site had been empty for years, and they look quite nice. "Do you like change?" I asked, he frowned at me.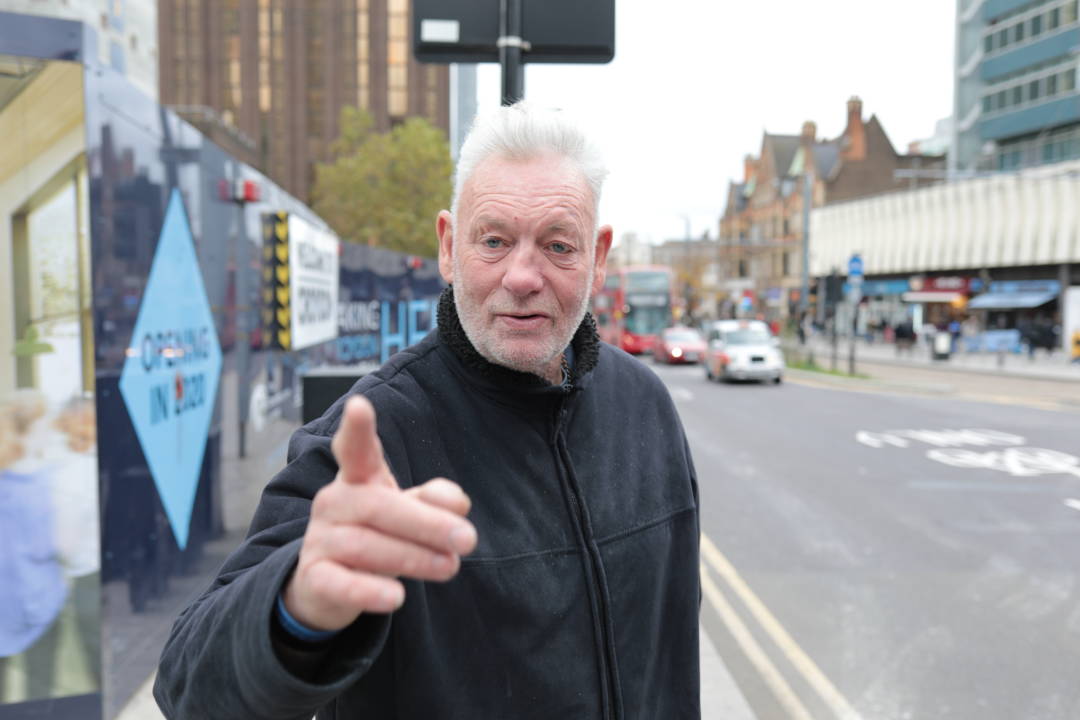 He said that they'd fall down. Bob said that he was a millionaire when he was 33, but lost it all.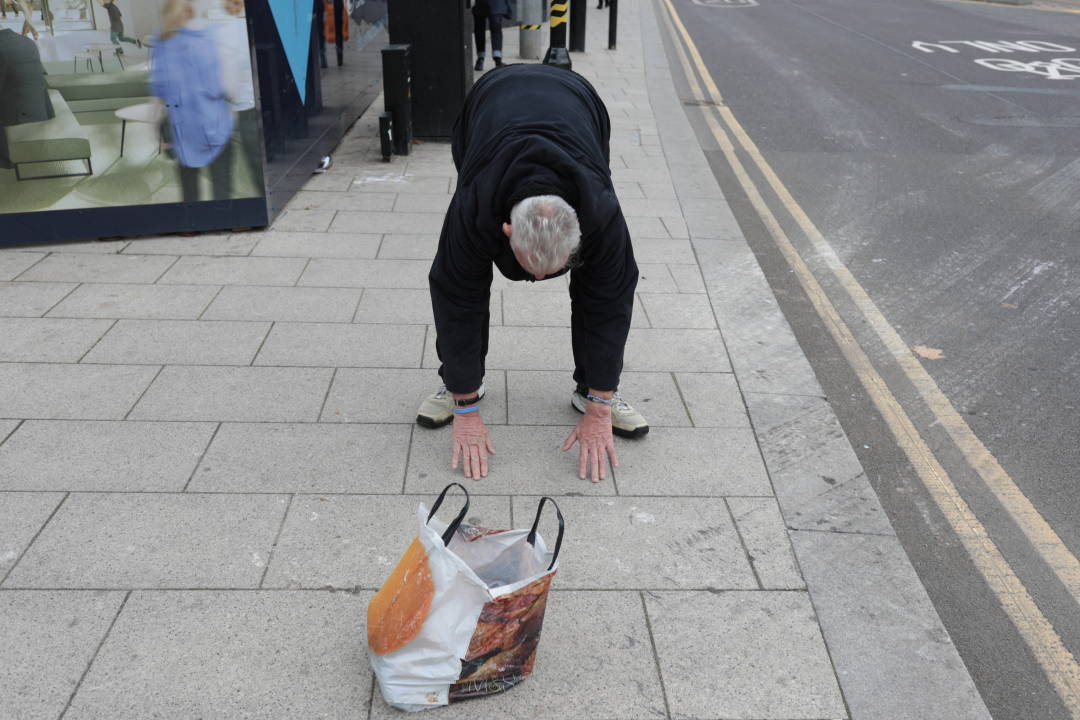 He asked why I was taking photos. He said that he'd only let me use his photo if I made sure that everybody on the internet knew he's still as flexible as he was when he was 33. Bob's upset that people in Croydon don't speak much English any more.
Gentrification coming through
Where gentrification happens, a Foxtons follows. Apparently in 2015, the Foxtons in Brixton had a police officer outside to stop people lobbing bricks through the window.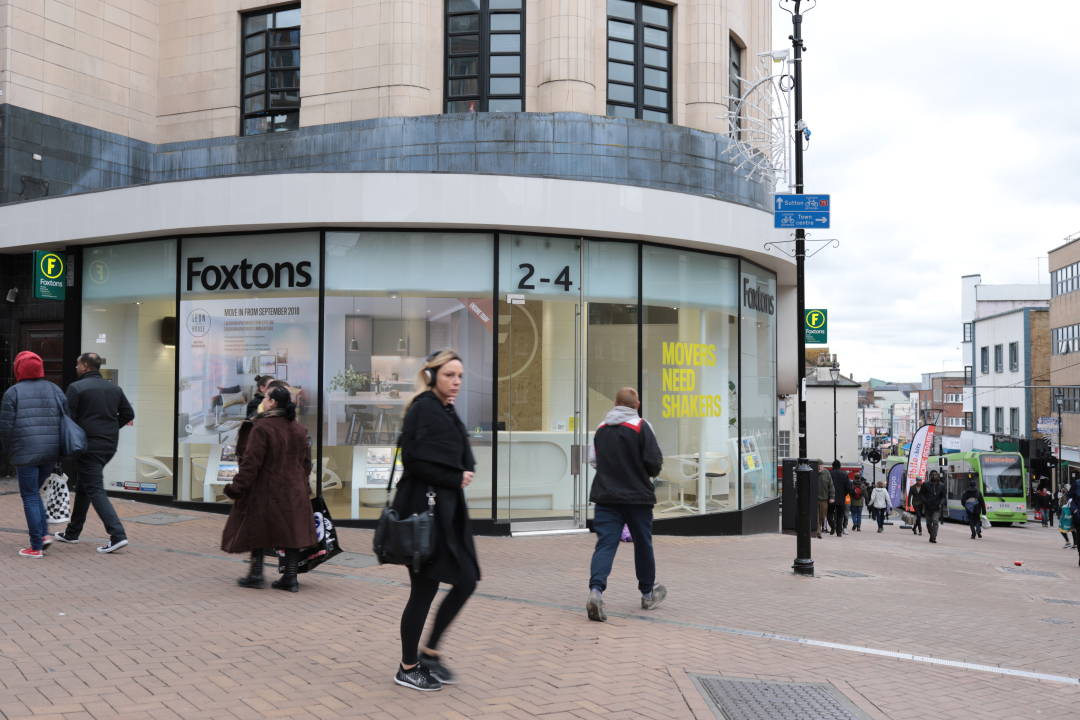 So naturally Croydon has one now. I don't know if this is good or bad for Croydon, nobody really knows. New homes, safer streets, more jobs – it doesn't sound bad on paper. But then do you lose the area's character? Surely you can't just set a town in time and watch the world spin around it. There has to be some sense of moving forward, but maybe it can happen too fast.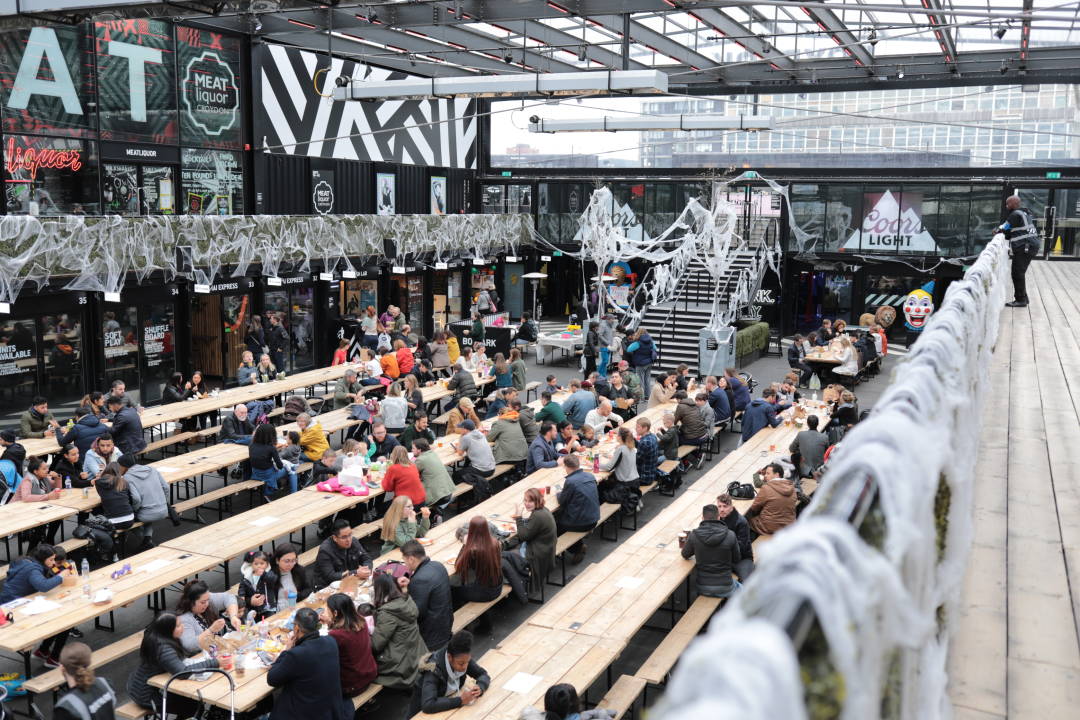 People – families, friends - all eating together, with a mix of chain and local restaurants. Is gentrification that bad?
On my walks around I'm noticing the shops that have gone. Some have just vanished, others have moved. As the whole area around what used to be the Nestlé headquarters is being demolished or generated, including Park House next door.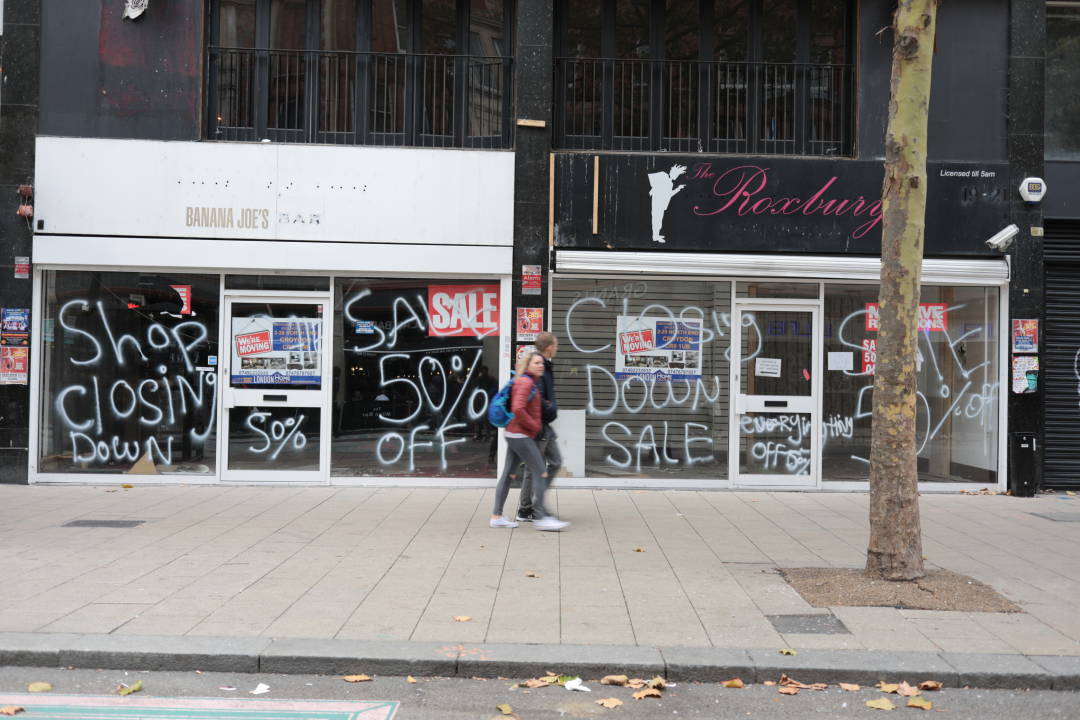 It's a lot of units to remove at the same time, and along with the pedestrianisation of a nearby road, the area has in an awkward place, just on the tipping point before the bulldozers arrive.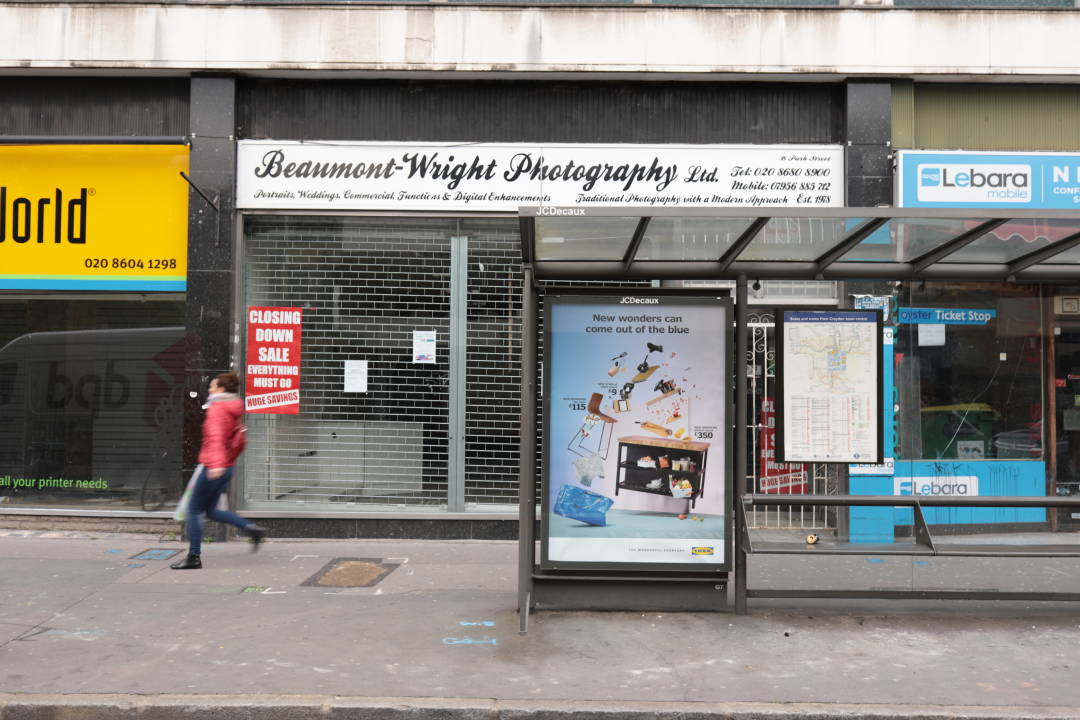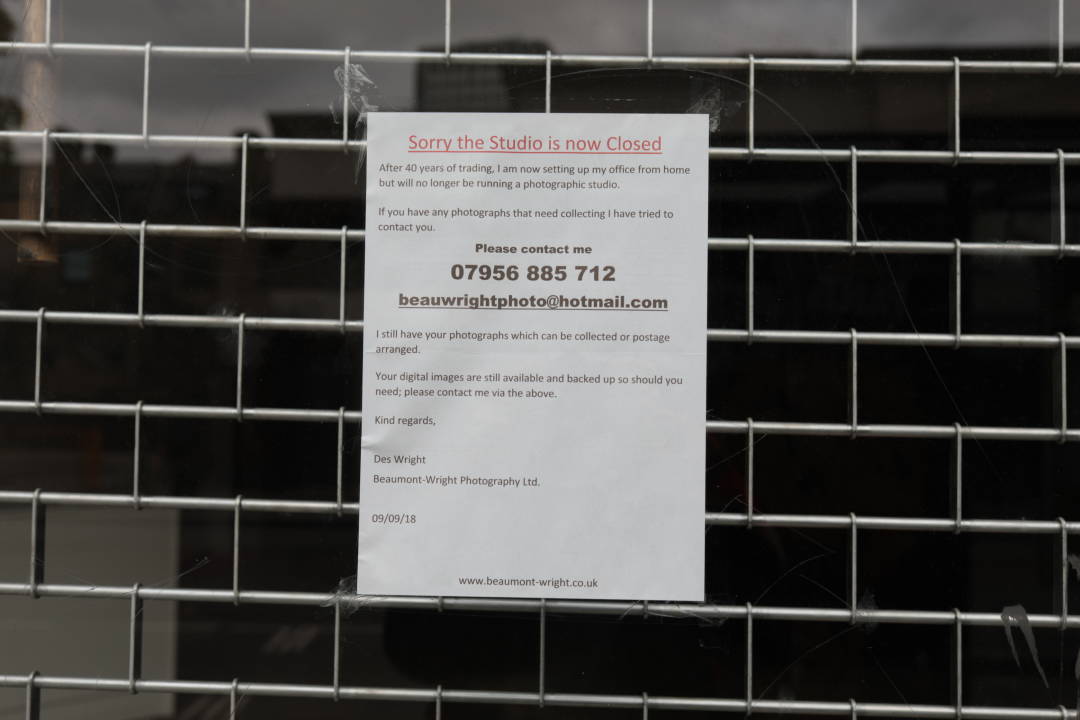 Some like above have taken the opportunity to change their business slightly, no longer requiring a physical shop.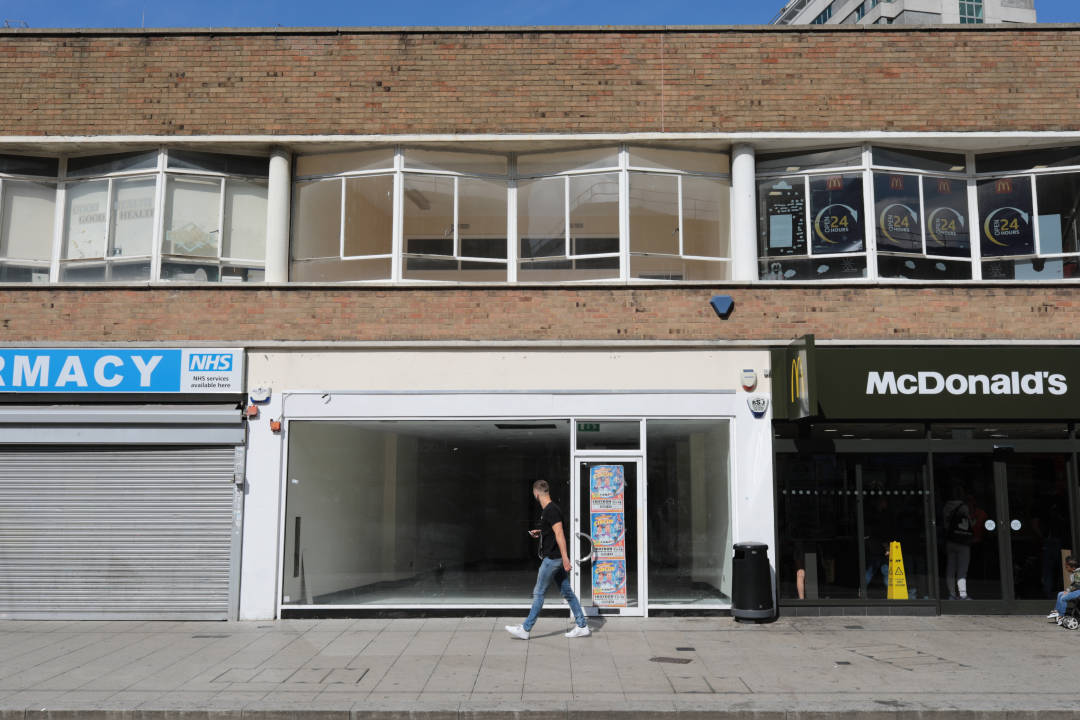 A small café on George Street I'd been to a couple of times has vanished. I don't know for certain, but I would imagine that the rents have been creeping up as more people walk past every day.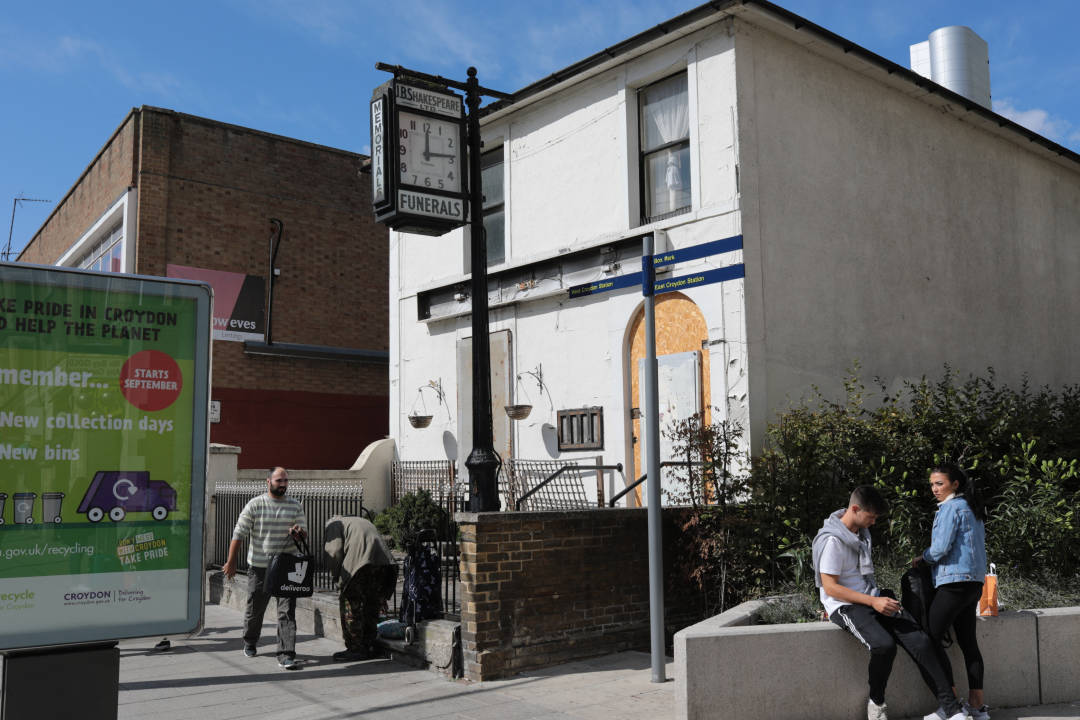 Also on George Street I noticed that J B Shakespeare, a local funeral directors, had gone. The clock is quite distinctive and I felt sad that a local business had closed. A property that small in that location is probably ripe for development.
But, it turned out they had just simply moved around the corner into what used to be a recruitment company's office.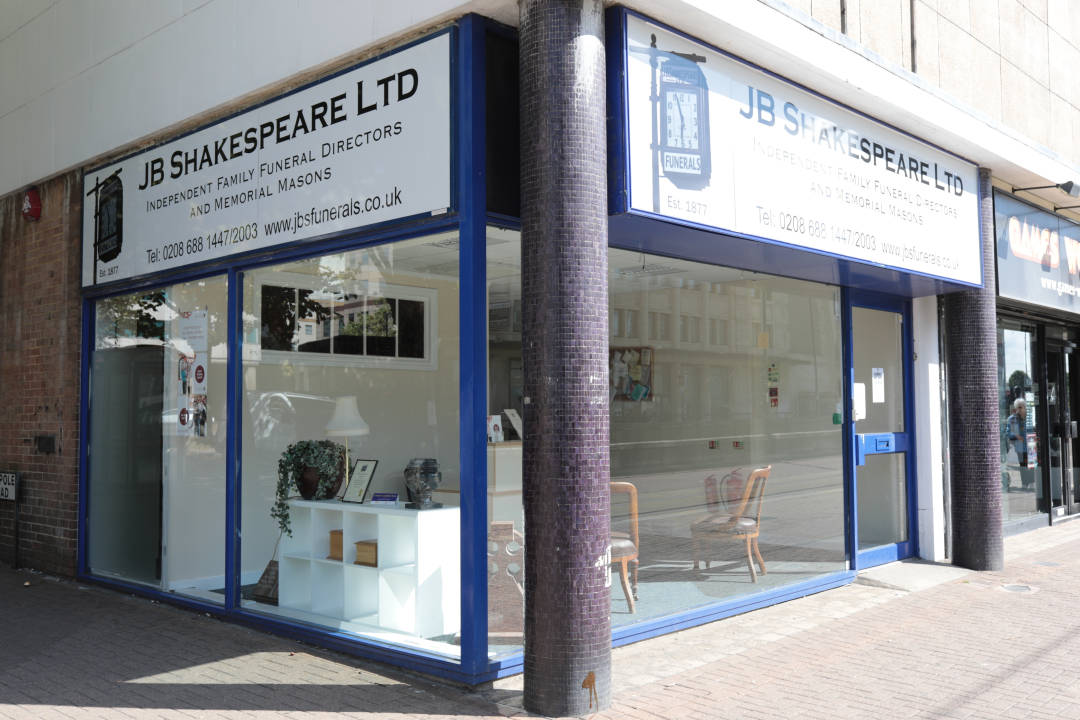 And they kept the clock.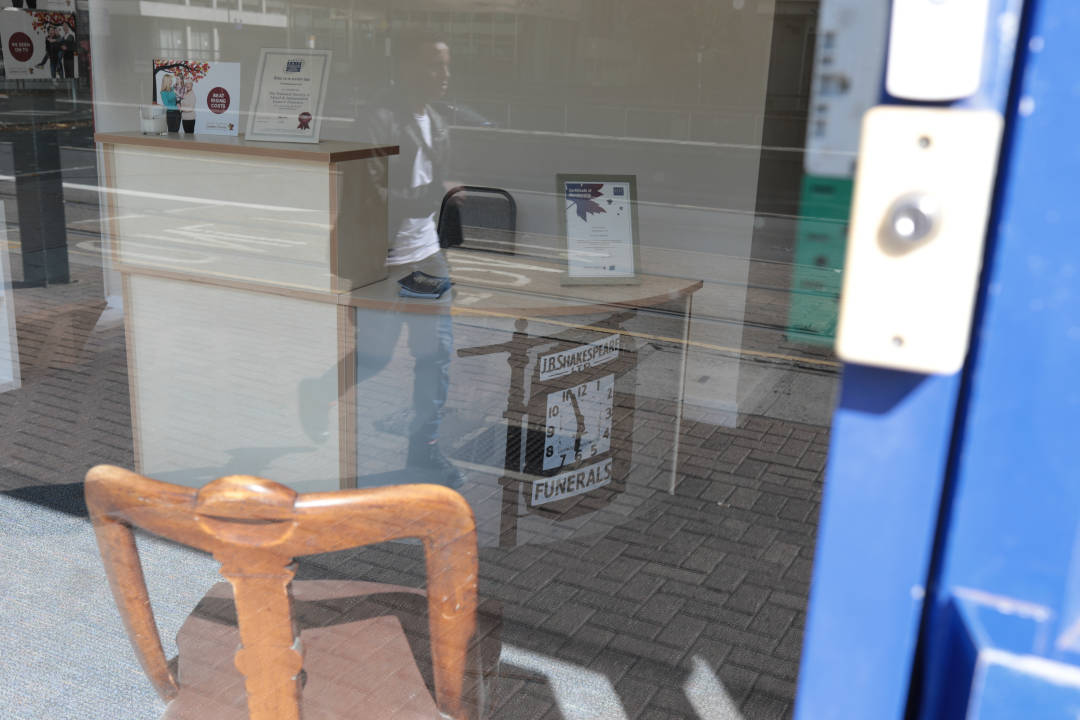 I don't think there's room here to debate whether all this is good or bad, or whether it's worth it. Possibly one day people might look at these photos and say how much nicer everything looks now, but possibly not.
Change is coming, and it's happening fast. And I'll keep taking photos so long as it's happening.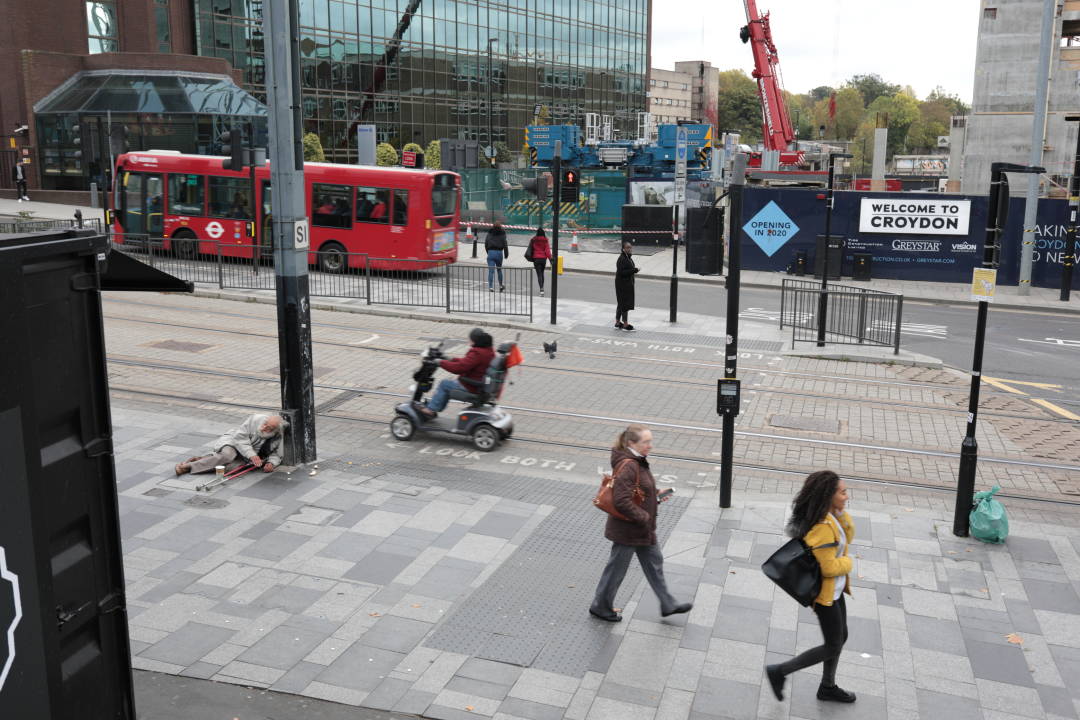 Thanks
With thanks to Tom Bond for lending me his Canon 5D. Used the 35mm lens to get most of these shots from September and October.
Further reading